Business
Whether it is a designer, a chef creating, a hostess leading, a performer putting on a show, I strive to create a culinary adventure and an engaging presence. A collaborative mindset and a cultural demand has allowed me to create and tell stories through professional approach and innovative iniatiatives working with aspiring entrepreneurs and small businesses to big corporate brands.
I design an interplay between multisensory experience and conceptual appearence bringing food to the table.
̌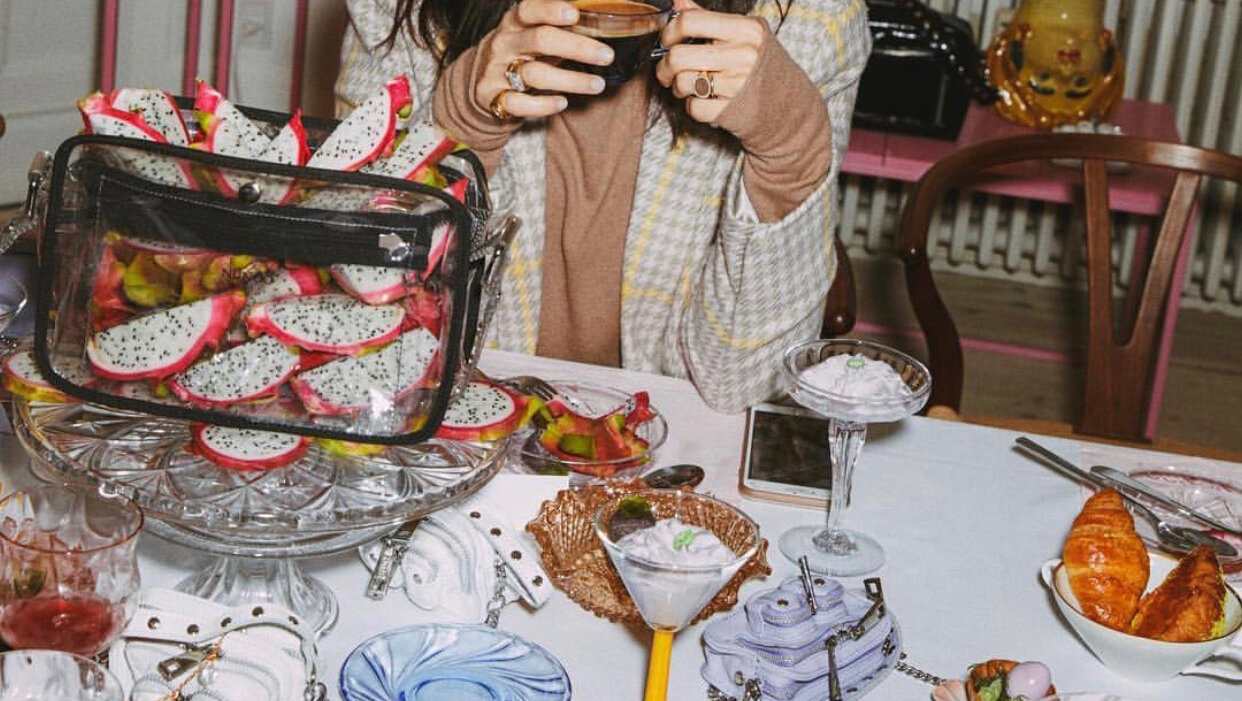 2018 · Copenhagen Airport · Femmes Regionales
"I CREATED A EATABLE BEAUTY TRAY FOR COPENHAGEN AIRPORT'S NEW BEAUTY DEPARTMENT".

2018 · Marmar 10 year aniversary · Femmes Regionales
"I CREATED 5 TASTE OF A CIRCUS THEME - BEER SAUSAGES IN A RED & WHITE COAT, STARDUST PIES, BALANCING CHEESESTICKS, CIRCUS MARSHMALLOWS AND A PODIUM OF CHOCOLATE."

2017 · A collaboration between: Aarhus 2017, More Creative, Danish Fashion Institute, Femmes Régionales, Ane Lynge-Jorlén, Headstart Fashion
"I WAS ASKED TO CHALLENGE THE CURRENT BODY SHAPE AND AESTHETICS. MARSHMALLOWS CREATED TO RESEMBLE SKIN, PINK TRUFFLE CRÈME AND FILLED CHOCOLATES WITH A BLOODY CENTER. IN ADDITION, JAMÓN IBÉRICO IS CUT INTO CHUNKS ON THE SCENE."

2018 · Normann · Femmes Regionales
"DAILY FICTION COLLECTION - I CREATED A CANDYSHOP OF EDIBLE PENCILS IN MERINGUE, ERASERS IN MARSHMALLOWS, PETITE EDIBLE TERAZZO FRENCH NOUGAT AND CHOCOLATE GOLDEN DOTS OF PASSIONFRUIT."

2018 · Talk · How does a foodartist work · The Royal Acedemy of Arts
Theme: Mindful eating · Peeling an egg
"THROUGH TACTILITY COMES CREATIVITY"

2017 · Lundbeck
"8 BRAIN RESEARCHERS FROM AROUND THE WORLD DESIRED A SPACE WHERE DISCRETION, CONFIDENTIALITY AND PAMPERING WAS ESSENTIAL. I CREATED A INTELLECTUAL MENU BASED ON MY OWN BRAIN IN A PERSONAL AND INFORMAL ENVIROMENT."
TASTING AND TALKING ABOUT FOOD IN THE FUTURE

2018 · Talk · Danish Architecture Center · BLOX
"AS THE WORLD EVOLVES, HOW WE LIVE EVOLVE. I SHOW HOW INNOVATION INFLUENCES FLAVOUR AND FORM, INGREDIENTS AND MATERIALS WITH AN INTERACTIVE INSTALLATION, THAT ENGAGES THE AUDIENCE NOT ONLY TO SEE HOW FUTURE FOOD MAY LOOK BUT EXPLORE MY TAKE OF HOW FUTURE TASTE."
BREAKFAST IN BED by AUGUSTA SØRENSEN

2016 · Personal Dining · Copenhagen Cooking & Food Festival
"WITH ROOM FOR ONLY TWO GUESTS AT A TIME, THE MOOD IS SET. INDULGE YOURSELF WITH A SLOW MORNING IN BED AND EXPECT A PERSONAL EXPERIENCE YET INFORMAL PRESENCE, AN AESTETIC YET DELICIOUS MULTI COURSE MEAL HAVING ME AS YOUR GUIDE AND PRIVATE CHEF."