Art
It is my way, my interpretation and only mine.
I set the scene, I create the theme, I portray the characters, I direct, and I tell the story. Simply to the fact that I need to! It is my passion, my freedom and my sanctuary.
̌

2016 · Opening of Copenhagen Cooking & Food Festival · with artist Andreas Rasmussen
"SOMETIMES YOU HAVE TO DESTROY SOMETHING BEAUTIFUL IN ORDER TO CREATE SOMETHING NEW."
Ingredients:
Salt, radish, fermented lemons, mascarpone, filo.
Instructions:
Grand pillars of salt, with a hammer you throb yourself into the pillars, a bag appears, a performer opens up for a cheesecloth and a baked radish appear, crème is sprayed. Pillars of filo is placed over as cover, and a new pillar is ready for eating.

2017 · Food Performance · Statens værksteder · Fabrikken for Kunst og Design · Res Artis
"WELCOME TO MOTHERHOOD, TO PRESENCE, TO FEELING LOVED, TO FEELING SAFE. TO SENSE THE REAL!"
Ingredients:
All women in my family, Pomelo juice, white tea, French cotton, kimchi, egg noodles, sesame roasted tofu, coriander, beech mushrooms, daikon radish, chicken eggs, miso broth.
Instructions:
Let your fingers be washed and dry your hands in warm, French cotton. Meet the hostess carrying a child, look her in the eyes and listen to her voice. Squeeze through the crack and meet the women who each will give you an ingredient in your cup. Finish with the mother, who pours warm miso broth over the ingredients in your cup. Eat your sensual meal while watching all women of motherhood.
A Journey through salt water

2019 · Food Performance · Shiso Studio.
"FROM MY THRONE OF SEA SALT I WILL WELCOME YOU, AND TOGETHER WE WILL EXPLORE THE SALTWATER BY EATING WITH ALL THE SENSES."
Ingredients:
Salt, a guest….
Instructions:


2014 · Produced by Wundergrund on Tour in collaboration with the Copenhagen Cooking Festival · Directed, composed and designed by Lars Kynde and Nikolaj Kynde.
Food composition by Mette Martinussen and Augusta Sørensen.
"I FOUND THE VERY BEST SOUND SPECIALISTS TO WORK WITH AND TOGETHER WE MANIPULATED THE SENSES OF HEARING AND TASTING. "
Ingredients:
Designed and customized Turntable, headset, 4 guests, 5 eatable batches: same taste 4 times · 4 tastes of Rain Forest · 1 portrait of a carrot · taste the tones in a dried seaweed leaf - a poetic story about an earthworm.
Instructions:
Take a seat at the table, put on the headphones and wait for the table to turn. Every time a miniature plate passes by, you grab it and when your lamp starts to blink, you eat. In this very second, the taste from your plate and the sound in your headphones unite. An eatable symphony appears.

2015 · Charlottenborg Spring Exhibition · with ceramist Trine Lyngsholm
"WITH A BOTH SENSOUS AND SOCIAL PLOT, THE INSTALLATION CHALLENGES KNOWLEDGE, SKILLS, AND ABILITY, DEMANDING ATTENTION AND EMPATHY OF THE VIEWER CREATING A NEW UNEXCEPTED ENCOUNTER."
Have you ever licked a plate? Have you ever touched a piece of art? Exaggeration promotes understanding.
Ingredients:
80 sculptures created of ceramics and food, 100 people, curiosity, playfulness, up-close.
Instructions:
Look at the performer and see what they do and imitate. Don't ask questions, learning by doing.
Explore, smell, feel, taste, sense, pill, scratch. It is messy, yet beautiful.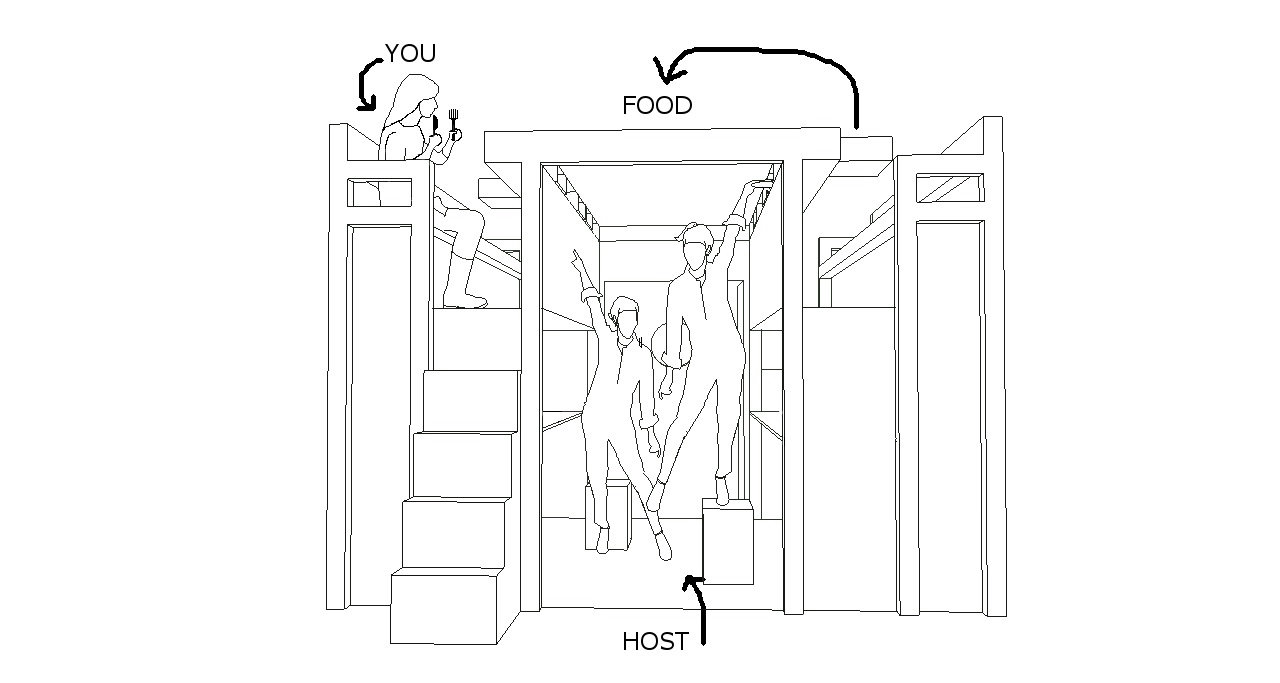 2014 · Roskilde Festival · with artist Christine Overvad Hansen
"WE CREATED THE FURNITURE OF MEAL, THAT MAKES IT EASY TO BE PRESENT DURING THE MEAL".
Ingredients:
The furniture in wood, 12 guests, 2 hosts living under the table, 12 pirogues with feelings, 1 carrot tartare. split into pieces, dessert for only half of the guests.
Instructions:
Open the drawer where the hostess has served a pirogue with a feeling. If you don't think that the feeling fits you, you may trade it away. Each guest receives a personal drawer containing all the ingredients you need for the carrot tartare. Does it need more salt, is it strong enough, how many egg yolks do you need? Who takes control and who ensures that there is enough for everyone? Should you run into difficulties along the way, you may be assisted by the hostess…. If you behave.
If you didn't get any dessert then maybe your neighbor is so kind to share the lavish, creamy, rich chocolate pie.
Meditation on Metamorphosis

2018 · Food Performance · Til Vægs - Lundtoftegade
"AN APPETIZER THAT SPEAKS TO THE EXHIBITION, ITS THEMES AND THE GUESTS."
Ingredients:
400 L popcorn shaped as a mountain, A turning neon spiral, Strobe light
Instructions:
Be drawn by the rotating luminescent neon coil. In the throat light, the huge mountain of popcorn is revealed at the end of the spiral. The spiral drives you in trance while your hands are filled with ultra violet popcorn.